mca Magic Fox in "2000"




His first Filly for 2002

cr Moonlight Magic




Fox under Western attire 4 yrs Fox at 3 yrs old
His Book is now OPEN for 2003 .
To further
his show career we are limiting the outside breedings
If you are interested in shipped semen please contact me
He is a Nominated Sire in the Sweepstakes program
VET GEN TESTED CLEAR FOR SCIDS
And DNA is on File with the CAHA Registry
His Bloodlines are a combination of years of successful breeding programs
from Sheila Varian for producing his National Top Ten Dam, Foxie Bey
and from
Jo-Anne Campone for producing US National Top Ten Stallion and Canadian National Top Ten Stallion Magic Dream cahr.
A lot went into the breeding behind this Stallion.
Greener Pastures
Born in 1977 and bred by Varian Arabians, Foxie Bey (Bay El Bey x Halali Wind Kite by *Bask) was a 1980 U.S. National Top Ten Futurity Filly, but her greatest contribution to the Arabian breed was her twelve offspring, five of which had 64 major show wins. Her first foal, WW Foxfire (by *Aladdinn), has had the greatest show success thus far, with 51 wins in English pleasure and informal combination, 15 of those at U.S., Canadian, and Youth Nationals. One of her last foals, the 1998 colt MCA Magic Fox (by Magic Dream CAHR), is just beginning a promising show carning the 2000 Region 17 Reserve Champion Stallion AAOTH with Carol Ferguson of Alberta, Canada.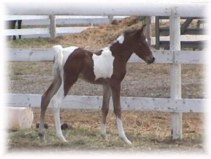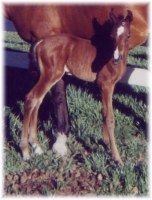 cr Splash of Magic Desert Blaze
mca Magic Fox x Sassi mae mca Magic Fox x
Misti Wind
by Shabumi x Gali Mist

mca Magic Fox and Melanie Francis




CR Arabians
Box 10, Site 14 RR#1
Okotoks,Alberta
Canada T1S 1A1
403-938-2524
© 1999/2000/2001 CR ARABIANS All Rights Reserved